Duct Fittings Production & Metal Processing Manufacturer From China
What is the installation and configuration process of ductwork clamps products
---
ductwork clamps products are hardware fixtures that are welded on rails. The main function of ductwork clamps products is to fix, and ductwork clamps products can usually be rotated ninety degrees

ductwork clamps products are hardware fixtures that are welded on rails. The main function of ductwork clamps products is to fix, and ductwork clamps products can usually be rotated ninety degrees, can be embedded in the nut. The ductwork clamps products are mainly used for some light pipes, and can also be used for heavy pipes and duplex series pipes, and can be used for ordinary mechanical pressure pipes and high mechanical pressure pipes.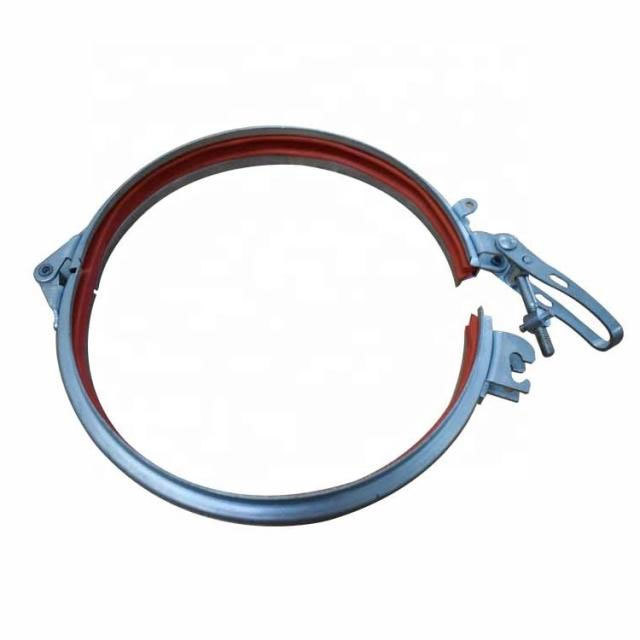 In today's industrial and living fields, ductwork clamps products are favored by more and more people for their unique corrosion resistance, aging resistance, environmental protection and safety. Especially in the construction industry, this new clamping device can not only replace traditional building materials, but also has the advantages of energy saving, energy saving, improvement of living environment, ecological protection, and improvement of building function and quality. Reducing the building area has become the future development trend of the pipeline industry in the fields of building water supply and drainage, urban water supply and drainage, and gas pipelines.
In order to determine the direction of the fixture, it is recommended to mark the fixed position first, then weld it, insert it into the lower part of the fixture body, then place the fixing tube on the other half of the fixture body and the cover plate, and tighten it with screws, do not directly weld the bottom plate when installing the fixture. On the ground rail, the rail can be welded to the foundation or fixed with screws, then push the rail nut into the rail and turn it 90 degrees, insert the lower part of the ductwork clamps products body into the nut, fix the pipe, then fix the ductwork clamps products body with screws upper part and cover plate.
When stacking and assembling, the guide rails can be welded on the foundation or fixed with screws. Install the lower half of the ductwork clamps products first, securing the pipes, then place the upper half of the ductwork clamps products and secure them with screws. In a variety of ductwork clamps products, its quantity has an advantage, but in recent years, the pipeline application practice in developed countries shows that the development speed of polyolefin pipes is much higher than that of water supply pipes.
Our Products
We produce all kinds of metal parts include machine parts, metal stamping, deep drawn, sheet fabrication, welding parts, and assemble products
Follow us